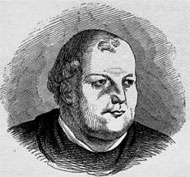 Using the very words with which von Staupitz had once encouraged him, Luther challenges his former superior to have confidence in the cause of the gospel and assures him of his own courage. He reports on the burning of some papal books and tells about the actions of some of his enemies, as well as of the burning of his books. He comments briefly on von Hutten's paraphrase of the bull.
Greetings. When we were at Augsburg and discussed my case, Most Reverend Father, you said to me among other things, "Remember, Friar, you began this in the name of our Lord Jesus Christ." I have accepted this word not as coming from you but as spoken to me through you, and I have kept it firmly in mind ever since. Therefore I now challenge you with your own statement: remember that you said this to me. Up to now one has only played around in this case; now something serious is at hand. As you have said, unless God executes it, it cannot be executed at all. All these things are now completely in the hand of Almighty God. No one can deny this. Who can advise here? What can man plan? There is such a tremendous turmoil that I think it cannot be quieted except by the arrival of the Last Day, so great is the animosity on both sides.
The papacy is not now what it was yesterday and the day before. Even if it excommunicates me and burns my books, and even kills me, doubtless something portentous is at the door. How happy the Pope would have been if he had begun this affair with good mediators for establishing peace rather than with force and storms for the destruction of Luther. I have burned the books of the pope and the bull, at first with trembling and praying; but now I am more pleased with this than with any other action of my life, for [these books] are worse than I had thought.
Emser is writing against me in German from Leipzig. He is strongly influenced by Duke George, who is furious at me. While breathing threats and murder, the Duke has proposed in the court the most ungodly actions against me.
I have been summoned by the Emperor in a letter delivered to the Sovereign; but the Sovereign objected to it, and soon the Emperor revoked the summons in another letter. God knows what will happen. Hutten has written a commentary upon the bull with the sharpest remarks against the pope; he is planning other steps in regard to this affair.
They have burned me three times [in effigy]: at Louvain, at Cologne, and at Mainz. At Mainz, however, it was done with great scorn, even with danger for those who did the burning. Thomas Murner has also written furiously against me. I will wait to see about that barefooted ass of Leipzig.
Farewell, my Father; pray for the Word of God and for me. I am carried away and tossed about by the waves.
Wittenberg, January 14, 1521
Martin Luther
Augustinian